Pop up openings
Take a look at our selection of gardens that are holding pop up openings. These won't be in the Garden Visitors Handbook or County Booklets, but give you an additional chance to view the garden.
Regular pop-up openings
Four Seasons, Staffordshire – Saturday 20th and Sunday 21st October – 10am – 5pm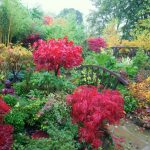 Stunning in all seasons. Suburban, s-facing ¼ acre, gently sloping to arboretum. 150 acers, 350 azaleas, bulbs, hellebores, camellias, perennials, begonias, bright conifers, topiary and shrubs. Autumn colours, bark and berries. Semi-formal, oriental and woodland-like areas. Themes include contrast of red, blue and yellow. Pagoda, bridges, water features, stone ornaments. Some steps. WC.
Come back soon to see if more pop up openings have been added or why not sign up for a My NGS account? You can then favourite gardens and opt in to receive a weekly reminder when your favourite gardens are due to open.