6 Elm Avenue To Feature On Gardener's World
Fri 14 Jul 2017
'Adam Frost is on the hunt for some clever design ideas in a garden in Littlehampton…'
We are excited to announce that 6 Elm Avenue in Littlehampton will be featuring on Gardener's World, BBC 2 on Wednesday 19th July at 9pm. Garden owner, Derek Harnden, shares his experience of the day with Adam Frost and a film crew:
"The day started at 8am as the team of five arrived – the director, cameraman, soundman, researcher and Gardener's World presenter, Adam Frost. It was cloudy and calm, if wet. Some plants, although rain-happy, were drooping under the weight of the water but the garden was looking as good as it could, given the conditions. The director reassured us that it would all be absolutely fine, as the cameras are capable of making everything look fabulous!
After introductions and a brief of what was planned for the day, we walked around, looking at possible filming options of the different areas of the garden. Everything was thoroughly planned prior to the team's arrival – scripts, themes (including background storyline), questions, over-dub talk by Adam back in the studio.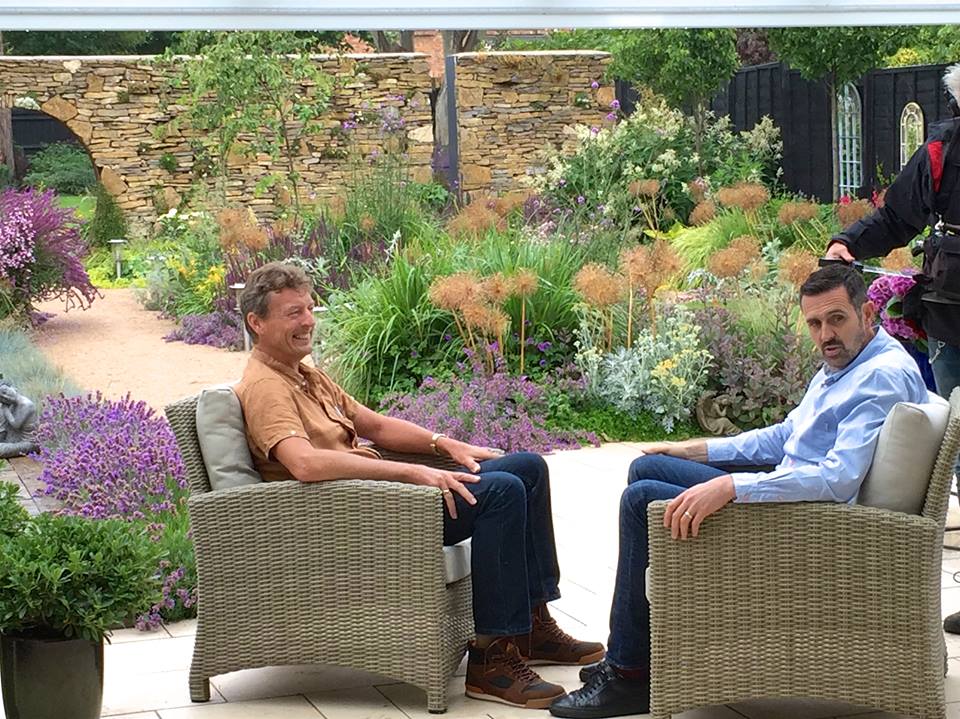 We have a glass-covered awning outside our 'Garden Room', and this was the obvious spot for the interview. The awning was much appreciated by all of us. Two chairs were set out, and at 9am the interview was filmed by two cameras, with the garden as the backdrop.   Adam was keen to connect to our similar design backgrounds and was generous, knowledgeable and engaging, a consummate professional. A select number of topics were discussed:
Flow of the spaces from the front garden, through the house and into the rear garden spaces
My design background
Our reasons for design decisions
The choice of layout/colour/texture/shapes (Moongate/circles)
The choice of planting
Helen and Sue, our gardener, were around to help with refreshments and I was very appreciative of their support.  I had to nip off at 11.30 for a county tennis match at West Worthing, but when I returned at 5, the film crew were still working!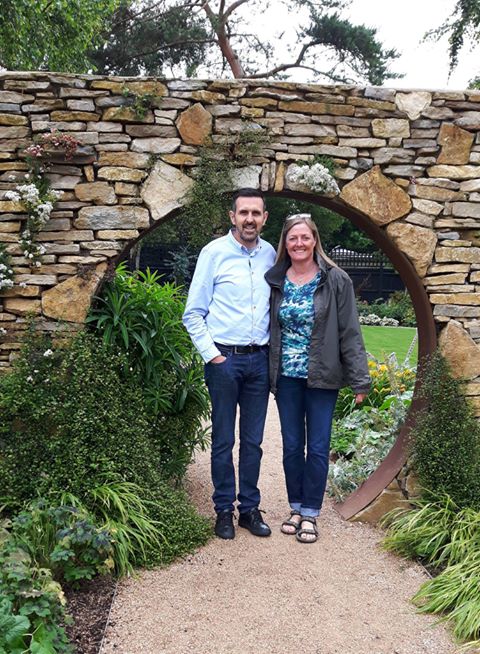 The whole day was a unique and great experience.  We are so proud that we can share our garden not only with our National Garden Scheme visitors, but soon (keep an eye out for us), all the viewers of Gardener's World."
6 Elm Avenue is opening for the National Garden Scheme on Saturday 16 September, Sunday 17 September (11am – 5pm). Visitors are also welcome by arrangement. To find out more information about the opening follow this link.