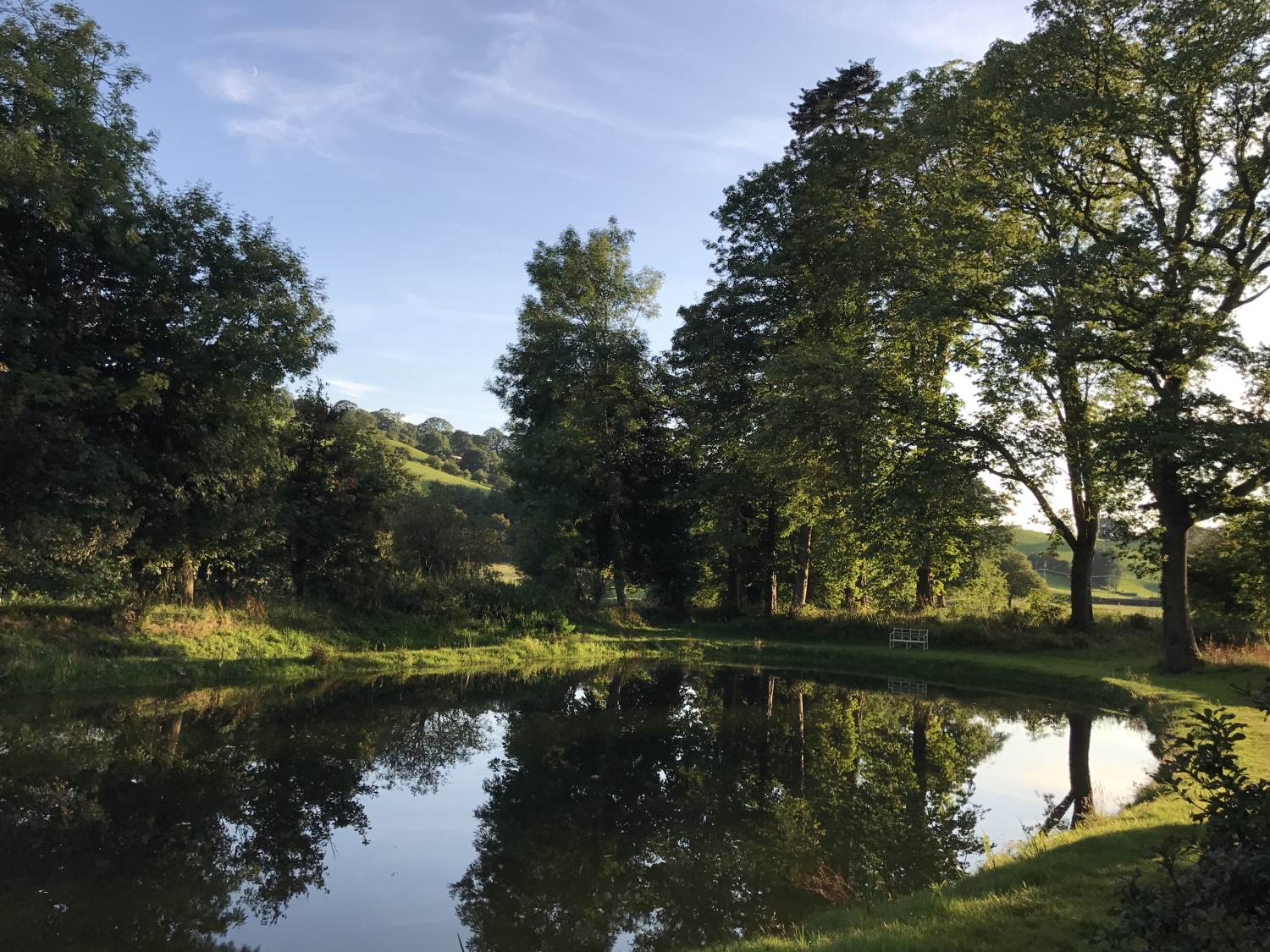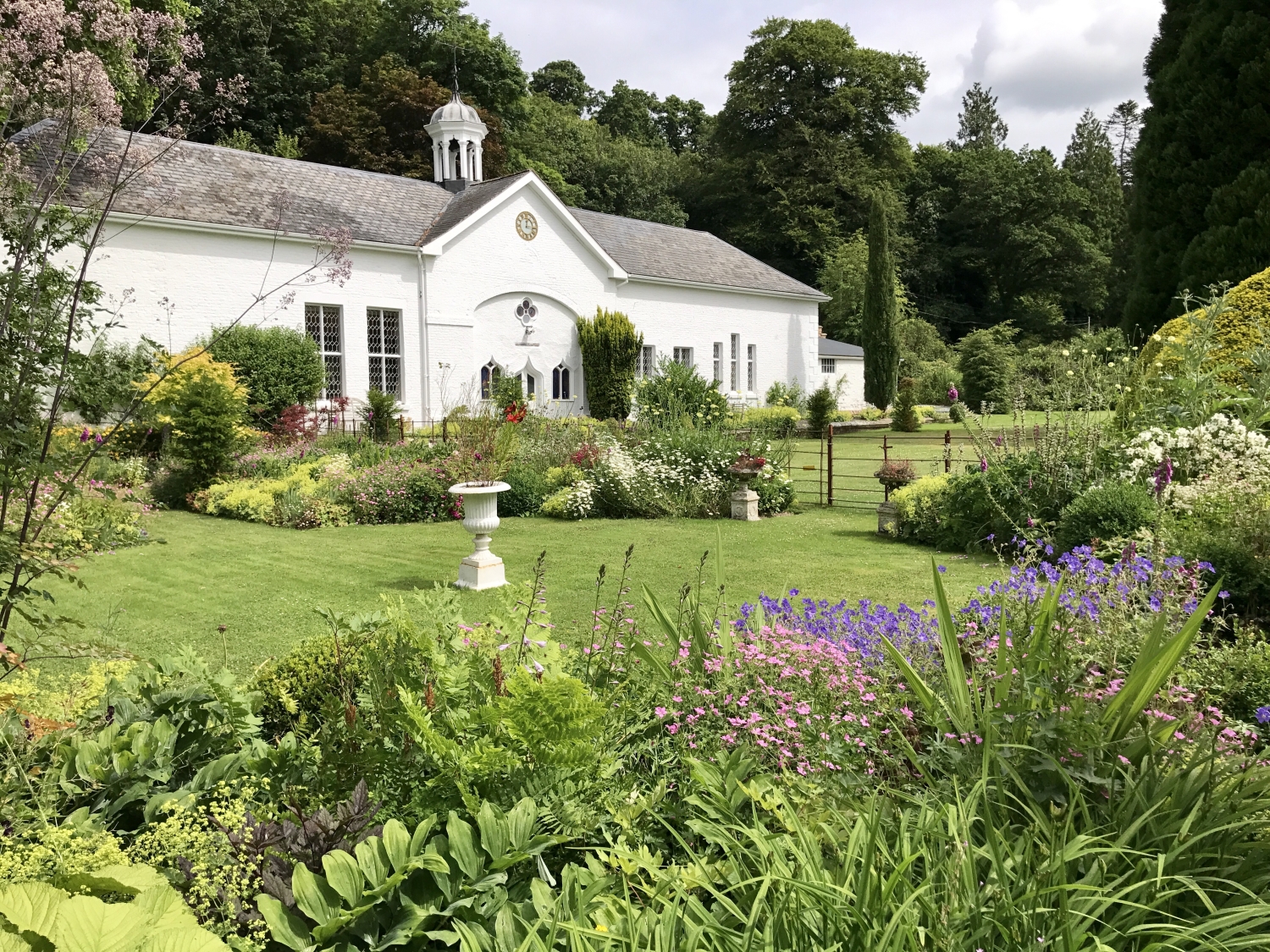 Gardens of 10 acres surrounded by parkland dating back to C18th. Owners are restoring the gardens with recent discovery of a secret well. Stunning display of mature rhododendrons and azaleas from mid-May. Formal, courtyard and cottage gardens complement Georgian and Victorian architecture. Topiary, specimen trees and spring walk. Small lake, iris beds in statue garden and Victorian dog kennels.
read more

A Brief History of Bodfach Hall, Montgomeryshire by Simon and Maggie Baynes

It is not known when the first house was built on the site of the present Hall but it is recorded that Bodfach formed part of the estates inherited in 1160 by Einion Efell from his father Madoc ap Meredydd, Prince of Powys. It seems quite probable that a house was built at Bodfach after the destruction in 1256 of the motte and wooden bailey castle which stood on the hill above named Domen yr Allt. Not long afterwards, the Borough of Llanfyllin received its first charter from the Prince of Powys Llywelyn ap Gruffydd in 1293.
The heraldic bard Siôn Cain (c1575-1650) sang the praises of Bodfach when it was owned by William Kyffin, a descendant of Madoc ap Meredydd. He was succeeded in 1655 by his son Siôn Kyffin who added considerably to the house according to the Welsh inscription of 1661 above the old front door. These improvements were praised by the farmer-poet Edward Morris: "A Hall fit for generous Lud in this a palace of pure beauty, a jewel of a house".
Siôn Kyffin died in 1694 and Bodfach passed to his granddaughter Mary Kyffin who in the same year at the age of 15 married Adam Pryce, a scion of the Pryce family of Newtown Hall. Adam was a staunch High Church man and Tory who incited the local mob in the Jacobite rebellion of 1715 to burn down the Dissenters meeting house in Llanfyllin.
In 1758 Bodfach passed to its most innovative squire Bell Lloyd on his marriage to Anne the granddaughter of Adam Pryce. A second inscription above the old front door dates Lloyd's building works to 1767 and the painting by Moses Griffiths of 1776 shows the resultant Georgian Hall and coach house with a cupola. The coach house also had a dovecote and a spinning room, hence the inscription above the gothic entrance: "Where sits a dame disguis'd in look profound, and eyes her fairy throng and turns her wheel around". Bell Lloyd also drained the great turbary near the town, built a new road to Llanrhaeadr and planted over 170,000 trees. All this took its toll on his finances and he died in the King's Bench debtor's prison in London in 1793.
Lloyd's eldest son Edward Pryce Lloyd married Elizabeth, daughter of Sir Roger Mostyn Bt. through whom he inherited the Mostyn estates in North Wales and became the first Lord Mostyn. He sold Bodfach in the 1840s to Lt. Gen. Sir John Wilson from whom the Lancashire cotton manufacturer John Lomax bought the estate in 1854 for £52,000.
Major building works were carried out in the 1860s by John Lomax and his son Thomas, who succeeded his father in 1863 and married Anne Pugh, daughter of the Rev. R. Pughe, Rector of Llanfihangel. They expanded the Hall and changed the Georgian brick exterior to its present day white stucco Victorian Italianate style (as described by Pevsner). They also laid out the Victorian terraces, gardens and small lake and planted the rhododendrons and azaleas which now form one of the finest collections in Wales.
Two of Thomas Lomax's children, Sir John and Anne, were unmarried and lived on at Bodfach for the rest of their lives. After Sir John's death in 1936, Anne became a recluse with a large number of dogs. By the time that she died in 1944 the Hall had become very run-down and her brother Charles did not want the property so it was put up for auction in July 1945.
The estate of 1,261 acres was mainly sold to its tenant farmers; the Hall and 33 acres were bought by Mr & Mrs Winter Tunstill under whom it enjoyed a new lease of life as a hotel. In 1972 Ian and Ann Gray bought Bodfach and continued to run it as a hotel with Ian becoming High Sheriff of Montgomeryshire, following in the footsteps of his predecessors Adam Pryce in c1715, John Lomax in 1862, Thomas Lomax in 1874 and Sir John Lomax in 1897.
David and Mary Clegg bought Bodfach in 1999 from whom we purchased it in 2007. Both families reunited land and buildings so the property now consists of the Hall and surrounding buildings and 100 acres of gardens, woods, parkland, fields and the small Bodfach caravan park. In the last ten years we have been busy restoring the house and gardens including creating a walled courtyard garden at the back of the house and a new formal garden by the Georgian coach house. There are also fine specimen trees, a south facing terrace with herbaceous borders and topiary, small ornamental lake, orchard and statue garden. There have been many discoveries along the way including a secret well and the plaques commemorating dear departed dogs which adorn the Victorian dog kennels at the back of the coach house.
The Llanfyllin Show continues to be held on the parkland of which 8 acres have been let to the Llanfyllin Town Council as a community field called Cae Bodfach which provides a much-used local amenity. We took part in the Woodland Trust's Jubilee Planting Scheme for the parkland in 2012, planting 60 trees to mark The Queen's Diamond Jubilee. The Woodland Trust did a survey of all the trees and found some were amongst the most ancient in Wales. The Bodfach Trust is also based at the house which supports charities in Wales and on the Welsh borders and about which more information can be found at: www.bodfachtrust.org.uk
Features and Attractions
Music by Montgomeryshire Musicians. Charity stalls and raffle. Art exhibition. Children's play area.
Press and Media Coverage
Featured in the Sunday Telegraph as one of the thirty best new NGS gardens to visit in the UK and best for 'fun happenings'.
This garden has completed its openings for the National Garden Scheme this year. However we have many other gardens you may like. Or why not favourite this garden below so that you can get emails sent to you when it is next due to open?
Bodfach Hall
- Canceled
On this day, this garden is open by arrangement, which means that you will have to contact the owner to arrange visits for groups.
Pre-booking essential, please go to our events page to book your tickets.
Admission by donation
Admission:
Adult:
Concessions:
Child:
On this day, this garden opens as part of .
Click the dropdown arrow next to the opening date above to find details of entry costs and to add the opening to your online calendar.
Click on any opening date on the calendar above to find details of entry times, entry price and to add the opening to your online calendar.
Regular opening
Open by arrangement only
Cancelled opening
Owner Information
Simon & Maggie Baynes
http://www.bodfachtrust.org.uk
Favourites
Share
Add this garden to your favourites – you'll be able to find it again more easily and, if you'd like, we can send you updates about future openings.
How to find us
Bodfach Hall
Llanfyllin
SY22 5HS
½ mile NW of Llanfyllin.
More detailed directions

On A490 drive west through Llanfyllin. Just outside town turn R into parkland at lodge, over small bridge, take L fork. Park near white gates to the gardens.
More about Bodfach Hall
A Brief History of Bodfach Hall, Montgomeryshire by Simon and Maggie Baynes
It is not known when the first house was built on the site of the present Hall but it is recorded that Bodfach formed part of the estates inherited in 1160 by Einion Efell from his father Madoc ap Meredydd, Prince of Powys. It seems quite probable that a house was built at Bodfach after the destruction in 1256 of the motte and wooden bailey castle which stood on the hill above named Domen yr Allt. Not long afterwards, the Borough of Llanfyllin received its first charter from the Prince of Powys Llywelyn ap Gruffydd in 1293.
The heraldic bard Siôn Cain (c1575-1650) sang the praises of Bodfach when it was owned by William Kyffin, a descendant of Madoc ap Meredydd. He was succeeded in 1655 by his son Siôn Kyffin who added considerably to the house according to the Welsh inscription of 1661 above the old front door. These improvements were praised by the farmer-poet Edward Morris: "A Hall fit for generous Lud in this a palace of pure beauty, a jewel of a house".
Siôn Kyffin died in 1694 and Bodfach passed to his granddaughter Mary Kyffin who in the same year at the age of 15 married Adam Pryce, a scion of the Pryce family of Newtown Hall. Adam was a staunch High Church man and Tory who incited the local mob in the Jacobite rebellion of 1715 to burn down the Dissenters meeting house in Llanfyllin.
In 1758 Bodfach passed to its most innovative squire Bell Lloyd on his marriage to Anne the granddaughter of Adam Pryce. A second inscription above the old front door dates Lloyd's building works to 1767 and the painting by Moses Griffiths of 1776 shows the resultant Georgian Hall and coach house with a cupola. The coach house also had a dovecote and a spinning room, hence the inscription above the gothic entrance: "Where sits a dame disguis'd in look profound, and eyes her fairy throng and turns her wheel around". Bell Lloyd also drained the great turbary near the town, built a new road to Llanrhaeadr and planted over 170,000 trees. All this took its toll on his finances and he died in the King's Bench debtor's prison in London in 1793.
Lloyd's eldest son Edward Pryce Lloyd married Elizabeth, daughter of Sir Roger Mostyn Bt. through whom he inherited the Mostyn estates in North Wales and became the first Lord Mostyn. He sold Bodfach in the 1840s to Lt. Gen. Sir John Wilson from whom the Lancashire cotton manufacturer John Lomax bought the estate in 1854 for £52,000.
Major building works were carried out in the 1860s by John Lomax and his son Thomas, who succeeded his father in 1863 and married Anne Pugh, daughter of the Rev. R. Pughe, Rector of Llanfihangel. They expanded the Hall and changed the Georgian brick exterior to its present day white stucco Victorian Italianate style (as described by Pevsner). They also laid out the Victorian terraces, gardens and small lake and planted the rhododendrons and azaleas which now form one of the finest collections in Wales.
Two of Thomas Lomax's children, Sir John and Anne, were unmarried and lived on at Bodfach for the rest of their lives. After Sir John's death in 1936, Anne became a recluse with a large number of dogs. By the time that she died in 1944 the Hall had become very run-down and her brother Charles did not want the property so it was put up for auction in July 1945.
The estate of 1,261 acres was mainly sold to its tenant farmers; the Hall and 33 acres were bought by Mr & Mrs Winter Tunstill under whom it enjoyed a new lease of life as a hotel. In 1972 Ian and Ann Gray bought Bodfach and continued to run it as a hotel with Ian becoming High Sheriff of Montgomeryshire, following in the footsteps of his predecessors Adam Pryce in c1715, John Lomax in 1862, Thomas Lomax in 1874 and Sir John Lomax in 1897.
David and Mary Clegg bought Bodfach in 1999 from whom we purchased it in 2007. Both families reunited land and buildings so the property now consists of the Hall and surrounding buildings and 100 acres of gardens, woods, parkland, fields and the small Bodfach caravan park. In the last ten years we have been busy restoring the house and gardens including creating a walled courtyard garden at the back of the house and a new formal garden by the Georgian coach house. There are also fine specimen trees, a south facing terrace with herbaceous borders and topiary, small ornamental lake, orchard and statue garden. There have been many discoveries along the way including a secret well and the plaques commemorating dear departed dogs which adorn the Victorian dog kennels at the back of the coach house.
The Llanfyllin Show continues to be held on the parkland of which 8 acres have been let to the Llanfyllin Town Council as a community field called Cae Bodfach which provides a much-used local amenity. We took part in the Woodland Trust's Jubilee Planting Scheme for the parkland in 2012, planting 60 trees to mark The Queen's Diamond Jubilee. The Woodland Trust did a survey of all the trees and found some were amongst the most ancient in Wales. The Bodfach Trust is also based at the house which supports charities in Wales and on the Welsh borders and about which more information can be found at: www.bodfachtrust.org.uk