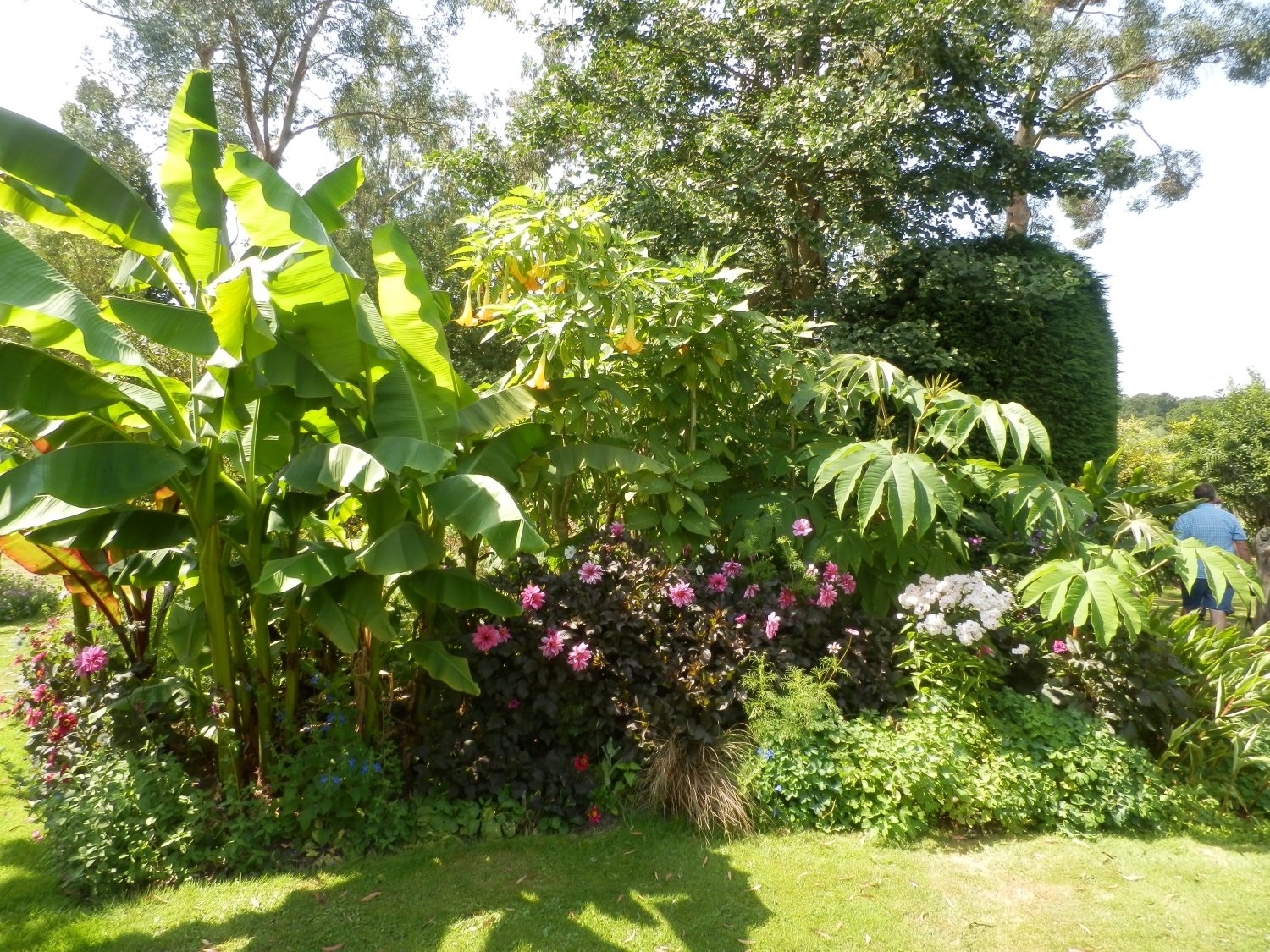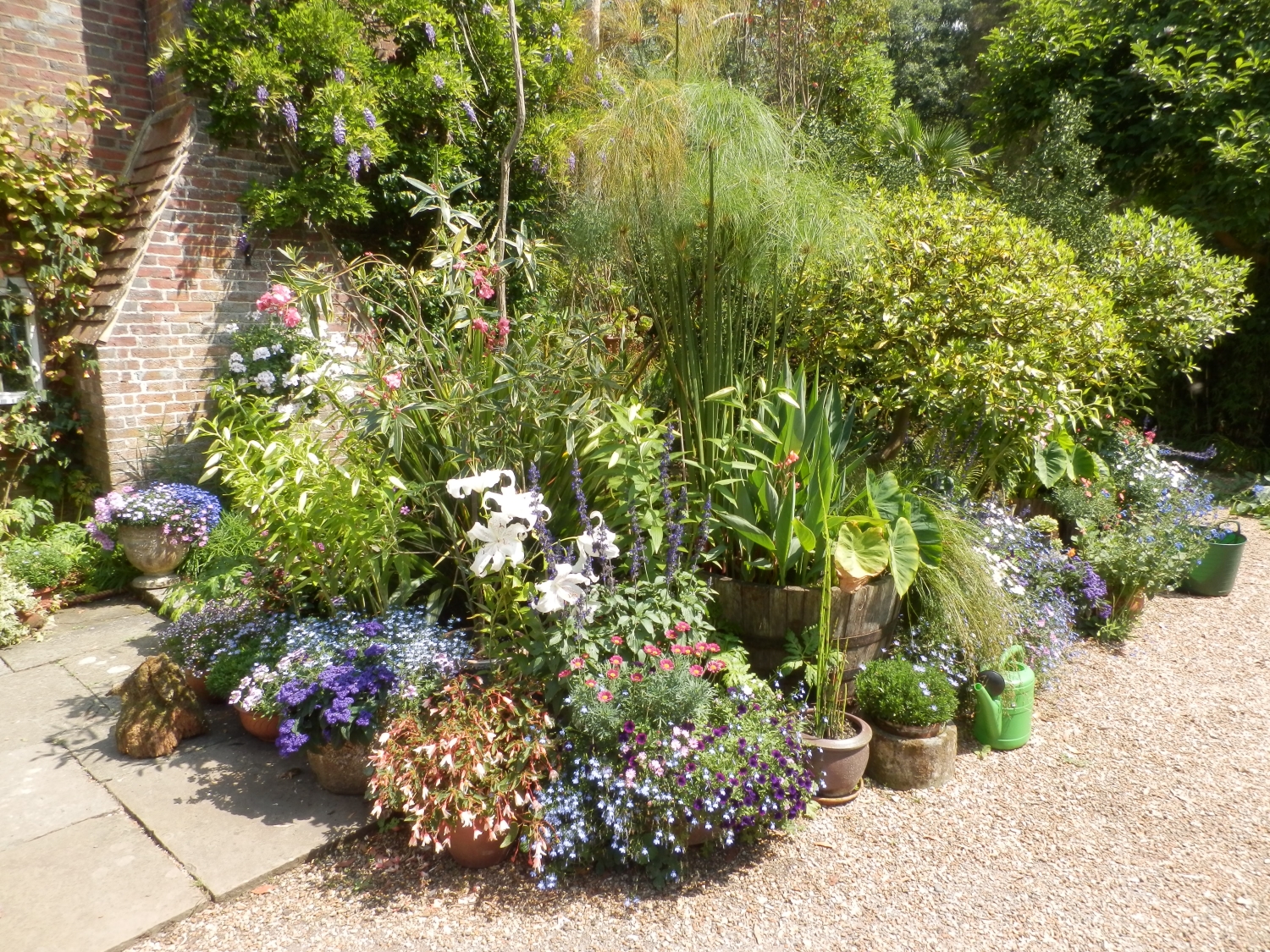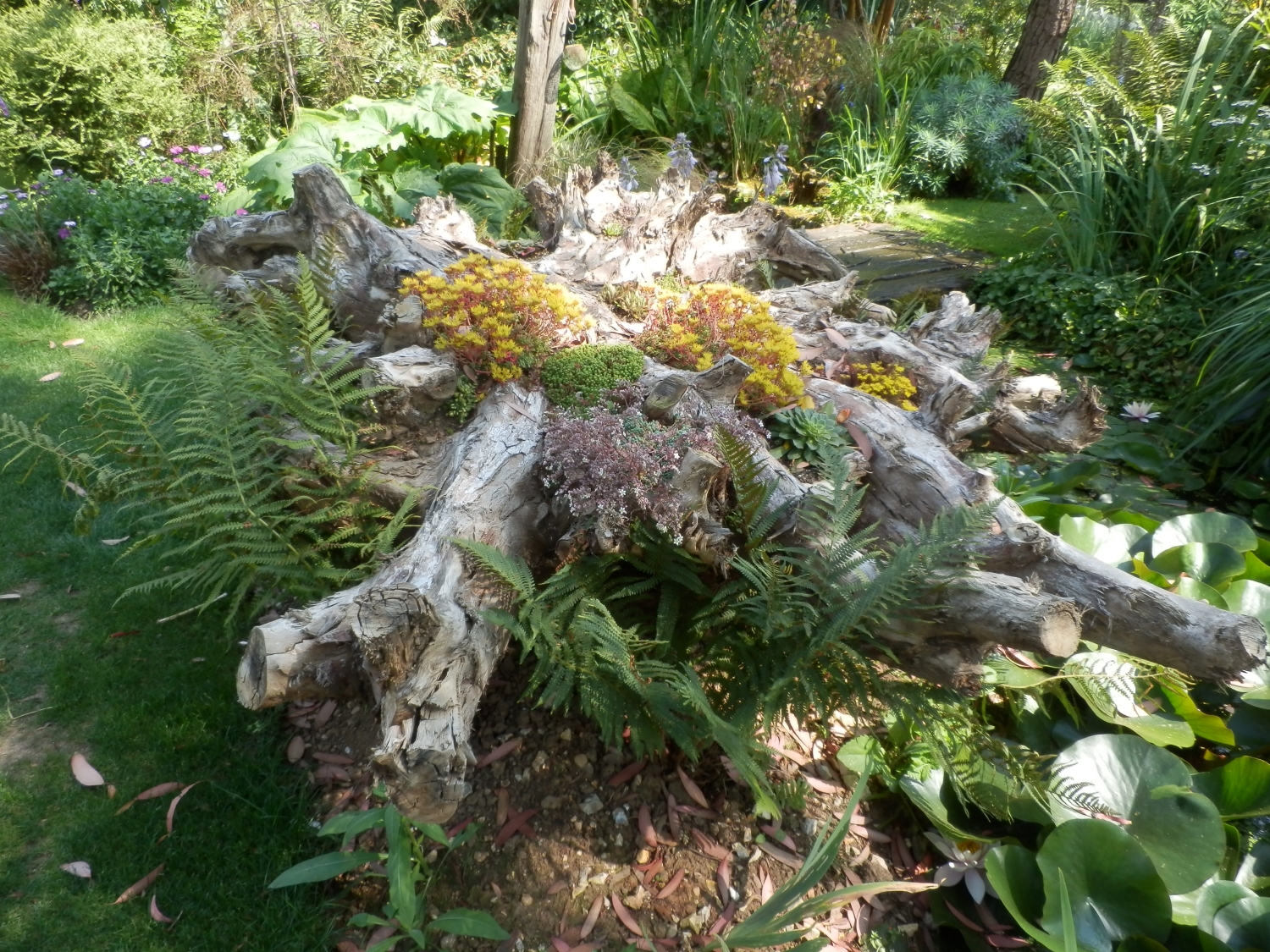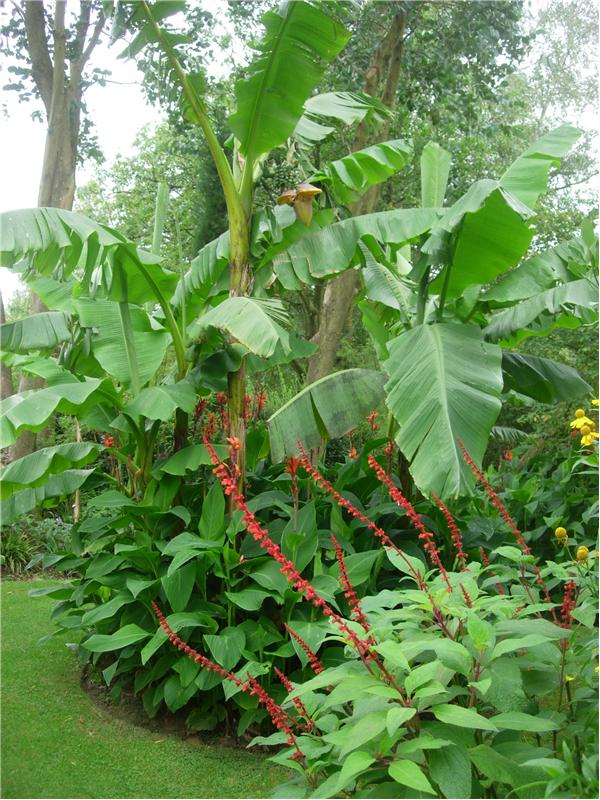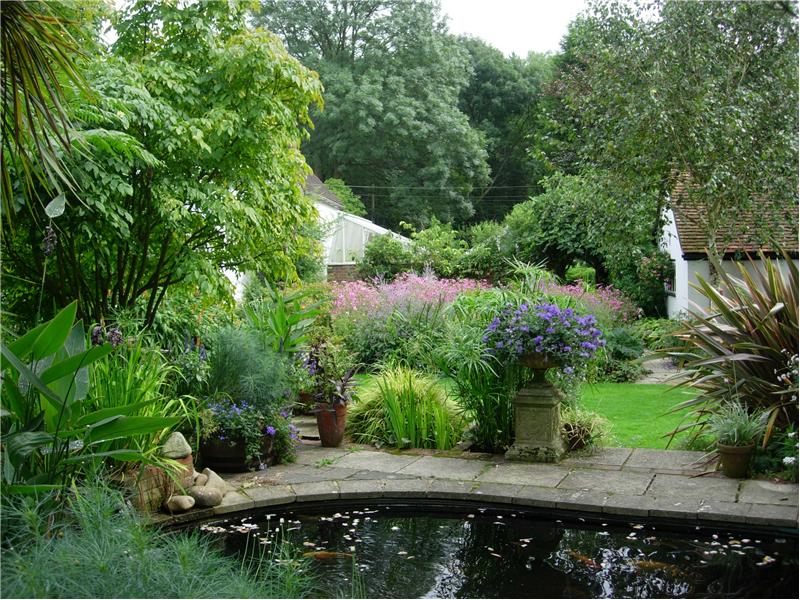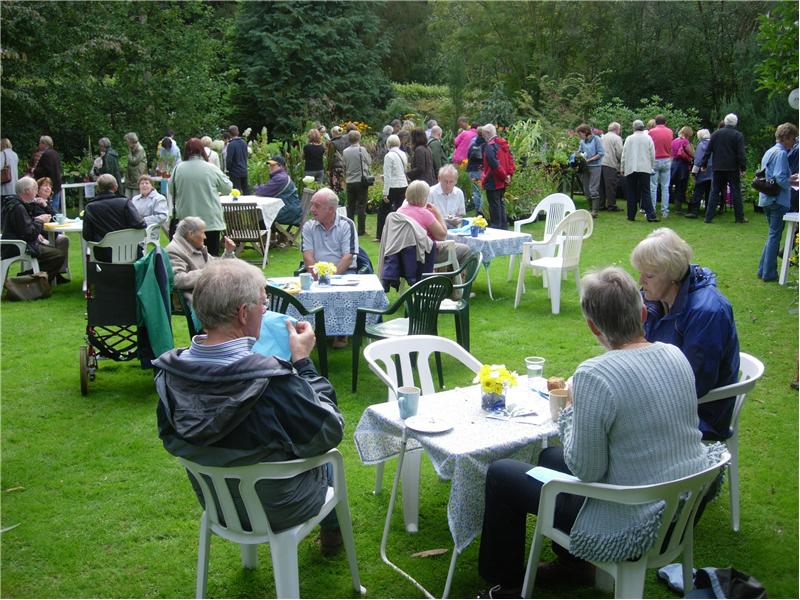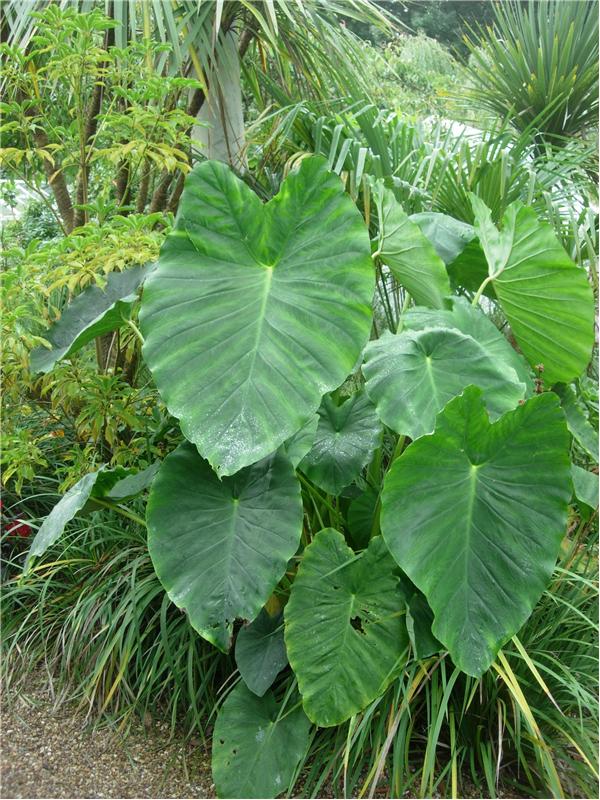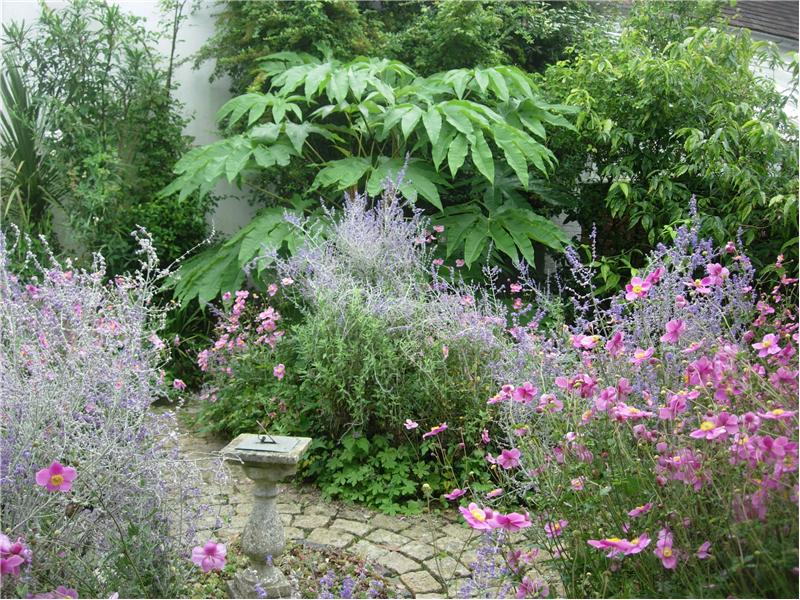 1½ acre garden designed and constructed by current owners. An exceptional range of rare, unusual and architectural plants incl National Collection of Eucalyptus. Dramatic foliage plants from around the world, see plants you have never seen before!
read more

This stylish garden is a plantaholic paradise. The emphasis is upon difficult and tender plants which look their best in late summer. Nevertheless, the earlier openings display a wealth of colour and interest. An extraordinary number of plants survive the winter outside with a little protection: bananas, hedychiums, Impatiens tinctoria and Dahlia imperialis for example. The Smiths bought the property in 1986 and designed the garden as a series of interlinking paths and glades which radiate out and give the whole layout the impression of being much larger than it really is. It is not a quiet or refined garden but exuberant and experimental, full of dramatic plants and contrasts. The forty or so Eucalyptus species in their National Collection have grown quickly and give the garden an air of maturity. The speed of some of these has been extraordinary; a Eucalyptus nitens, planted in 1993 is now over 100ft tall. Cordylines and Italian cypresses also recur throughout the garden and bind it together. A vast number of pots are planted out for the summer or grouped together. Some may be put in a strategic position for only a few weeks while flowers associate well with another plant. The owners' plantsmanship is very broad and encompasses hardy plants and alpine plants too: a laburnum hedge as you come down the drive, bulbs of every kind, a quincunx of Japanese anemones, a water garden, a pond, and hundreds of hardy trees and shrubs too. This is a most imaginative and creative garden to visit for ideas about what to grow and how to display it. Meon Orchard offers its visitors a most excellent choice of cakes which can be enjoyed on the spacious front lawn. For the September opening two or three top quality nurseries provide a huge range of plants for sale and Plant Heritage offers additional rarities. A bonus for visitors is to explore ½ mile of river Meon, since the Smith's were able to purchase the 20 acre field behind the property in 2013. To watch a short video of the garden click here
Features and Attractions
Flowering shrubs in May and June; perennials in July; bananas, tree ferns, cannas, gingers, palms dominate in Sept; and streams and ponds, plus an extensive range of planters complete the display. Visitors are welcome to explore the 20 acre meadow and ½m of Meon River frontage attached to the garden. Extra big plant sale of the exotic and rare on Sun 1 Sept.
Press and Media Coverage
Featured on Radio Solent.
This garden has completed its openings for the National Garden Scheme this year. However we have many other gardens you may like. Or why not favourite this garden below so that you can get emails sent to you when it is next due to open?
Meon Orchard
- Canceled
On this day, this garden is open by arrangement, which means that you will have to contact the owner to arrange visits for groups.
Pre-booking essential, please go to our events page to book your tickets.
Admission by donation
Admission:
Adult:
Concessions:
Child:
On this day, this garden opens as part of .
Click the dropdown arrow next to the opening date above to find details of entry costs and to add the opening to your online calendar.
Click on any opening date on the calendar above to find details of entry times, entry price and to add the opening to your online calendar.
Regular opening
Open by arrangement only
Cancelled opening
Owner Information
Doug & Linda Smith
01329 833253
meonorchard@btinternet.com
Loading...
Share
Add this garden to your favourites – you'll be able to find it again more easily and, if you'd like, we can send you updates about future openings.
How to find us
Meon Orchard
Kingsmead
North of Wickham
Hampshire
PO17 5AU
5m N of Fareham.
More detailed directions

From Wickham take A32 N for 1½m. Turn L at Roebuck Inn. Garden in ½m. Park on verge or in field N of property.
Accessibility information
Garden fully accessible by wheelchair, reserved parking.
More about Meon Orchard
This stylish garden is a plantaholic paradise. The emphasis is upon difficult and tender plants which look their best in late summer. Nevertheless, the earlier openings display a wealth of colour and interest. An extraordinary number of plants survive the winter outside with a little protection: bananas, hedychiums, Impatiens tinctoria and Dahlia imperialis for example. The Smiths bought the property in 1986 and designed the garden as a series of interlinking paths and glades which radiate out and give the whole layout the impression of being much larger than it really is. It is not a quiet or refined garden but exuberant and experimental, full of dramatic plants and contrasts. The forty or so Eucalyptus species in their National Collection have grown quickly and give the garden an air of maturity. The speed of some of these has been extraordinary; a Eucalyptus nitens, planted in 1993 is now over 100ft tall. Cordylines and Italian cypresses also recur throughout the garden and bind it together. A vast number of pots are planted out for the summer or grouped together. Some may be put in a strategic position for only a few weeks while flowers associate well with another plant. The owners' plantsmanship is very broad and encompasses hardy plants and alpine plants too: a laburnum hedge as you come down the drive, bulbs of every kind, a quincunx of Japanese anemones, a water garden, a pond, and hundreds of hardy trees and shrubs too. This is a most imaginative and creative garden to visit for ideas about what to grow and how to display it. Meon Orchard offers its visitors a most excellent choice of cakes which can be enjoyed on the spacious front lawn. For the September opening two or three top quality nurseries provide a huge range of plants for sale and Plant Heritage offers additional rarities. A bonus for visitors is to explore ½ mile of river Meon, since the Smith's were able to purchase the 20 acre field behind the property in 2013. To watch a short video of the garden click here